If you're in search of a strain that offers a great vibe and long-lasting effects, then Ken's GDP by Evermore may be just what you need. This slightly indica dominant hybrid strain was created by the famous breeder Ken Estes, who crossed the powerful Grand Daddy Purple to create this award-winning strain. Ken's GDP has won multiple awards, including 1st Place at the Medicinal Cup in 2004 and 1st Place at the Green Cup in 2004, 2005, and 2006. This strain is known for its potent effects, it's no wonder that Ken's GDP is a popular choice among cannabis enthusiasts. This batch of Ken's GDP has a total of 21.43% cannabinoids and a total of 2.4% terps.
Ken's GDP buds have round grape-shaped light minty green nugs with sparse light amber furry hairs and a coating of oversized bright white crystal trichomes. The taste of Ken's GDP is said to be like GDP but better, smooth, and fruity with a rich grape flavor that sweetens with each hit. The aroma is spicy with a grapey kush scent that's accented by a rich hashy effect that's released as the nugs are burned. 
The  vibe from Ken's GDP hits me quickly, almost immediately after exhaling. I feel an energetic boost of euphoria that leaves me feeling happy and talkative, without any feelings of anxiety. As  my brain is firing on all cylinders, my body is washed over with deep relaxation and calm that seeps into my bones. This heavy-hitting and long-lasting effect makes Ken's GDP an excellent choice 
Others who have had Ken's GDP have said they felt Creative, Relaxing, Sleepy, and Sociable effects after medicating. Ken's GDP produces aromas of Hash, Kush, Spicy, and Sweet. You may experience flavors of Grape, Sweet, and Sour. If you deal with Anxiety, Fatigue, or Stress Ken's GDP by Evermore may be a strain for you. 
Check out more Strain of the week videos below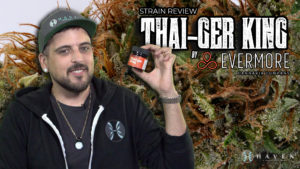 You can grab some for yourself from our Brandywine Dispensary.
Shop our online menu now!
MAKE SURE TO LIKE COMMENT AND SUBSCRIBE!
HAVEN IS A SOUTHERN MARYLAND BASED MEDICAL
CANNABIS DISPENSARY LOCATED IN BRANDYWINE MD.
You must be 18 years of age or older to view this content
MEDICAL CANNABIS USE IS FOR CERTIFIED PATIENTS ONLY.
(STRAIN OF THE WEEK)