Maryland Medical Marijuana Laws
In 2014, Maryland passed House Bill 881 which legalized medical marijuana in the state. The bill gave the responsibility for developing all necessary laws and regulations to two organizations:
The Maryland Department of Health and Mental Hygiene
The Natalie M. LaPrade Medical Marijuana Commission
While this law went into effect in 2014, the state of Maryland has been extremely slow implementing their medical marijuana program. Nearly three years after passage of the law, the state's program still had not been put into action, leaving many patients without the ability to acquire the medical cannabis products they need.
In late 2017, Maryland finally began awarding licenses for dispensaries and the first one opened for business shortly before the end of the year. Additional dispensaries began opening in early 2018, and there should be an increasing number that will open for business throughout the year.
We understand that you most likely have many questions about the medical marijuana process in Maryland. The following page will provide you with an overview of the laws governing medical marijuana in our state. To find out if you are eligible for medical cannabis products, please call 240-650-0420 today to schedule a consultation at Haven.
Conditions Eligible for Medical Cannabis in Maryland
Under House Bill 881, patients with the following conditions may qualify for medical marijuana:
Chronic or debilitating conditions which require hospice or palliative care
Cachexia (wasting syndrome)
Anorexia
Severe or chronic pain
Nausea
Chronic muscle spasms
Seizures
Post-traumatic stress disorder (PTSD)
Glaucoma
Certain severe conditions which haven't responded well to more traditional medical treatments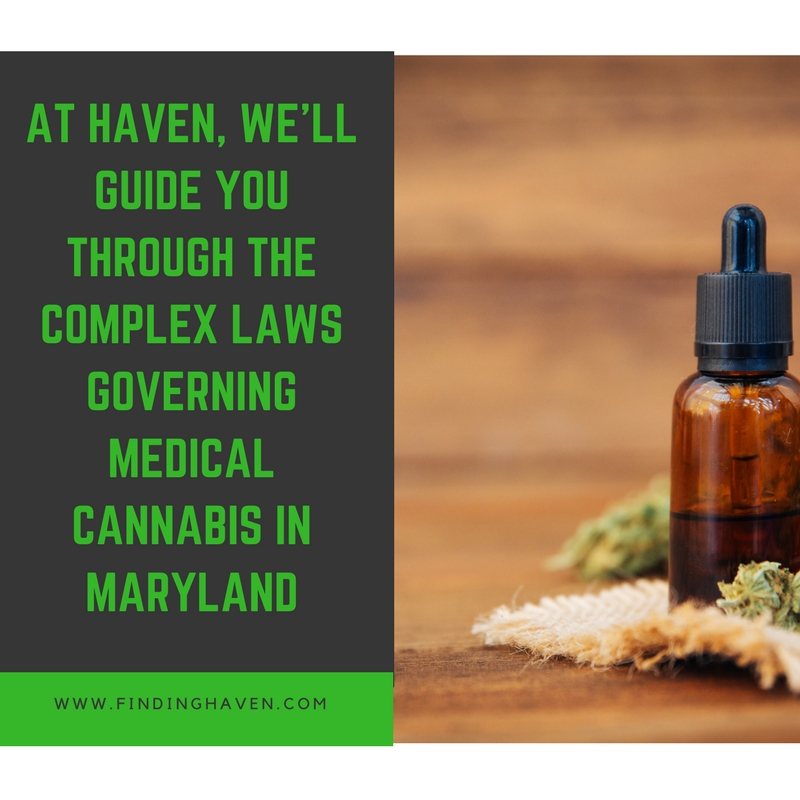 Becoming a Medical Marijuana Patient in Maryland
You don't have to be a state resident to be eligible for medical cannabis. Out-of-state residents who are in Maryland for the purpose of receiving medical treatment can obtain medical marijuana if their condition qualifies under House Bill 881.
In order to become accepted into Maryland's medical marijuana program, you must submit an application to the Natalie M. LaPrade Medical Marijuana Commission. The entire online application must be completed in one session. As part of the application process, you must have:
An electronic copy of a valid federal- or state-issued photo ID
Proof of Maryland address or proof of treatment by a Maryland medical center
A recommendation from a doctor or nurse that is licensed by the state of Maryland to recommend medical cannabis treatment
Legitimate medical records or documentation of the condition which requires treatment by medical cannabis
As part of the certification process, you'll also need to purchase an ID card from the Natalie M. LaPrade Medical Marijuana Commission. The cost of this ID card is $50. This certification will become void if you haven't purchased medical marijuana products within 120 days of the date it is issued.
How Much Medical Marijuana Can I Possess?
Once you have your medical marijuana card, you'll be legally allowed to possess the following amounts of cannabis products:
You can transport up to 10 grams with you wherever you go
You may possess a "30-day supply" in your home — the precise amount that equates to a "30-day supply" for your given condition will be determined by the Natalie M. LaPrade Medical Marijuana Commission
Contact Haven to Learn More
If you'd like to find out whether you qualify for medical marijuana, the first step in the process is to be evaluated by a licensed doctor. At Haven, we can help you through the process of receiving access to the cannabis treatments you need.
Please contact Haven using the form on this page or call 240-650-0420 today to schedule a consultation. We serve patients in Brandywine and throughout the surrounding areas of Maryland.