Conditions We Treat with Medical Cannabis
Conditions treated by medical marijuana
In 2014, Maryland passed House Bill 881, legalizing medical cannabis for the treatment of a variety of approved health conditions. While it has taken several years for the law to take effect, Maryland's medical marijuana program is now up and running. If you have one of the conditions covered under House Bill 881, you may be eligible to purchase the medical-grade THC products at Haven.
However, you must first obtain a medical marijuana card before you can purchase products at our dispensary. Haven cannot issue medical marijuana cards; you must receive a written certification from a medical professional who is licensed to recommend medical cannabis in the state of Maryland.
If you would like to learn more about how medical cannabis can help alleviate your symptoms, the staff at Haven can help. Please call 240-650-0420 today to schedule a consultation.
Conditions Eligible for Medical Marijuana in Maryland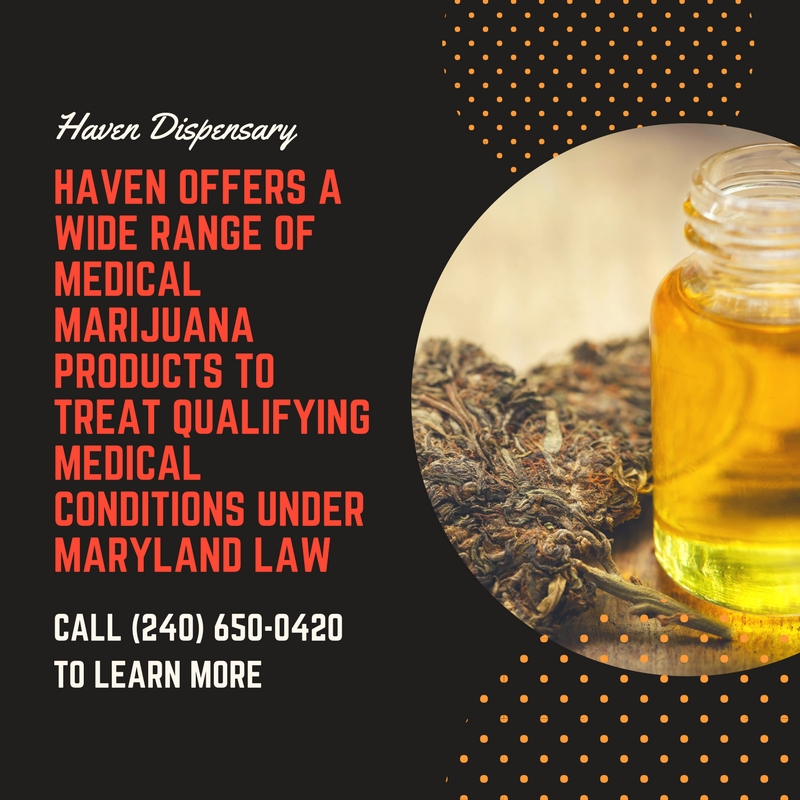 Under Maryland law, the following conditions have been approved to be treated with medical cannabis:
Chronic or debilitating conditions which require hospice or palliative care
Cachexia
Anorexia
Severe nausea
Severe chronic pain
Wasting syndrome
Severe and persistent muscle spasms
Seizures
Post-traumatic stress disorder (PTSD)
Glaucoma
Chronic pain
Medical Marijuana for Cancer
Cancer is a disease that develops when changes occur in the genes that manage the way your cells grow and divide. Due to these changes in your genes, cells begin to develop when they aren't needed and old damaged cells continue to live when they should die.
The National Cancer Institute estimates that approximately 40% of the population will develop cancer during their lifetime. You may experience a wide range of symptoms depending on the type and location of cancer. Some of the most common symptoms include:
Lumps or swelling
Chronic coughs that are often accompanied by blood
Difficulty breathing
Unexplained bleeding
Bruising
Blood in stools or urine
Sores that won't heal
Changes in genitalia
For many individuals, cancer treatment is accompanied by a variety of painful and debilitating side effects. Medical cannabis can be used to alleviate many of these symptoms, including:
Nausea and vomiting
Pain
Weight loss
Mood swings
Fatigue
Difficulty sleeping
Constipation
Itching
Find out if You Qualify for Medical Cannabis
The first step to receiving medical cannabis is to find out whether you qualify for a medical marijuana card. While Haven can't issue these cards, we can help you get started with the process. Once you have your card, we can provide you with a wide range of medical cannabis products to address your unique needs.
Please call 240-650-0420 today to schedule a consultation at Haven. We serve patients in Brandywine and throughout the surrounding areas of Maryland.