Big changes are afoot in Maryland's cannabis laws! In an exciting and impactful shift, the state now allows the sale of cannabis-infused edibles. We're excited to bring a carefully curated selection of edibles to our valued customers, and we want to begin the process by introducing you to one of them: Dixie Elixirs.
Founded in 2010, Dixie is a Denver-based manufacturer of cannabis-infused edibles such as fruit punches, mints, and candies, as well as a producer of topical balms. We're thrilled to be bringing you their products, and we're sure that as a medical cannabis patient, you'll find real convenience, ease—and, not least, great taste!—in the Dixie products we sell.
So without further ado, let's dive in and see what Dixie's offerings are all about!
Drink Your Medicine: Dixie Cannabis-Infused Elixirs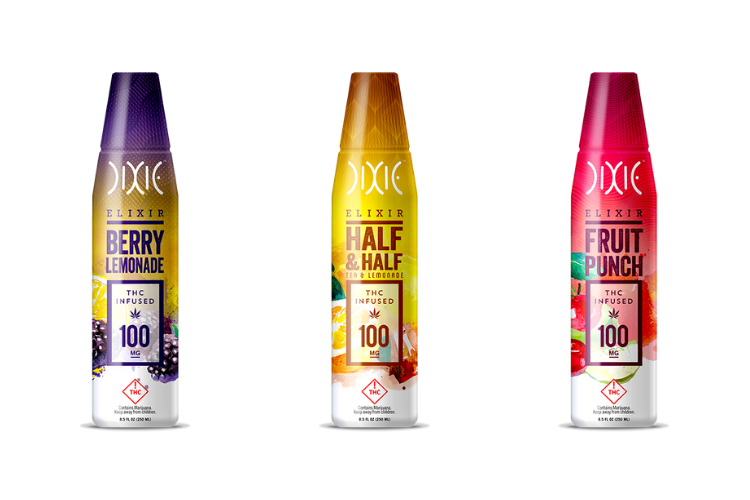 As the name suggests, Dixie's business is based on its elixirs: Cannabis-infused beverages in zingy fruit-based flavors, and loaded with a precise and easily measured dose of THC.
We currently stock three flavors of elixirs. Berry Lemonade combines the flavor of fresh and juicy wild blackberries with a carbonated lemonade; Fruit Punch combines the flavors of cherries, oranges and a hint of pineapple, and Half and Half is a take on the classic Arnold Palmer, that unbeatable thirst-quenching combination of lemonade and iced tea.
Dixie's packaging philosophy is noteworthy. All their elixirs come in special proprietary bottles designed both to be child-resistant and to preserve fizziness (in those formulations that are carbonated).
What's more, the cap is marked with a 15 ml dosing line which helps you measure a precise 6mg dose of THC per serving. Speaking of which, it's important to note that when consuming cannabis-infused edibles, the cannabis medicine will take a longer time to take effect than with other forms of administration such as smoking or vaping. Dixie recommends you allow at least 30 minutes for the effects of its elixirs to become apparent. Depending on your recent food intake and other factors, it may take as long as two hours for the full effects to manifest, so be sure to wait a proper amount of time before trying a second dose.
Other Dixie Cannabis Products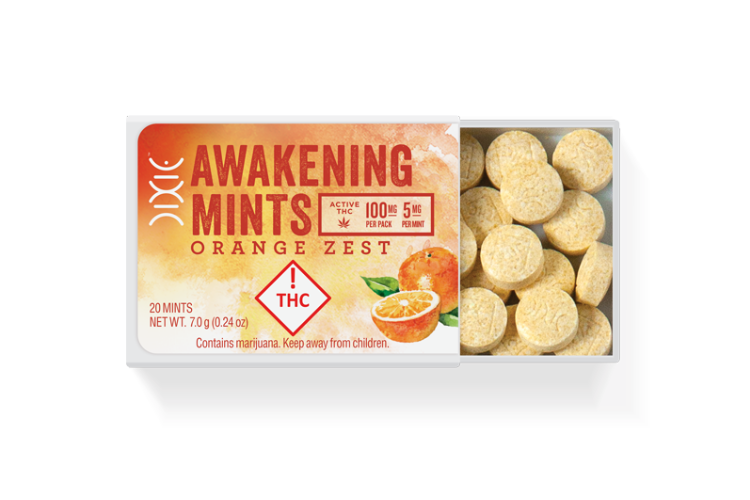 We're also excited to carry Dixie's "Awakening" Mints. The idea is simple: A zingy, flavorful mint with a kiss of orange zest, formulated to deliver a low, consistent and predictable dose of 5mg THC per mint. They're a great way to access the medical benefits of cannabis without the potential distraction of a large dose. What's more, they're not only discreet but delicious as well!
Finally, we stock several of Dixie's topical balms. Designed to naturally soothe and revitalize sore muscles and tender spots, they're made with cannabis in a 1:1 ratio of THC to CBD for maximum effect. The all-natural healing power of cannabis is complemented by aromatic therapeutic oils such as black pepper, fennel, and ginger root for a gently stimulating experience. Like all cannabis-infused topicals, they're not psychoactive even though they contain THC.
As always, if you have any questions about using cannabis-infused edibles, just ask us! We're always more than happy to schedule a consultation with you for any reason whatsoever. We can help guide you towards the products best suited to your personal needs and goals, and help you find the cannabis medicine that's right for you. We're here to help!