How To Make Homemade Infused Donuts Recipe
If you're a fan of both donuts and cannabis, then you'll love this recipe for cannabis-infused donuts! These tasty treats are the perfect blend of sweet and savory, with a hint of earthy, herbal flavor.
The key to making successful cannabis-infused donuts is to use a high-quality, potent cannabis butter. This can be made by infusing butter with decarboxylated cannabis flower or concentrates. The amount of cannabis butter used in the recipe can be adjusted to your desired potency, so be sure to start with a small amount and increase gradually.
There are several reasons why someone might choose to make homemade donuts instead of purchasing them from a store or bakery:
Customization: When you make donuts at home, you have complete control over the ingredients and flavors. This allows you to customize the recipe to your taste preferences and dietary needs.
Cost: Homemade donuts can be more cost-effective than store-bought donuts, especially if you are able to buy ingredients in bulk or on sale.
Quality: Homemade donuts can be fresher and of higher quality than store-bought donuts, which may have preservatives and other additives.
Fun: Many people enjoy the process of baking and cooking as a hobby or creative outlet. Making donuts at home can be a fun and rewarding activity.
Control: When you make donuts at home, you have complete control over the ingredients, ensuring that you are using fresh, high-quality ingredients and avoiding any additives or preservatives that you may not want to consume.
Donuts have a long history, with roots in Middle Eastern cuisine[1] and the Dutch settlers' olykoek (oil cake)[2]. The term 'doughnut' was first used in an 1808 short story[3], and the interchangeability of 'doughnut' and 'donut' dates to the early 19th century[3]. Ancient Greeks also had a version of donuts, called loukoumades[4]. The first doughnut machine was invented in 1920 by Adolph Levitt in New York City[5].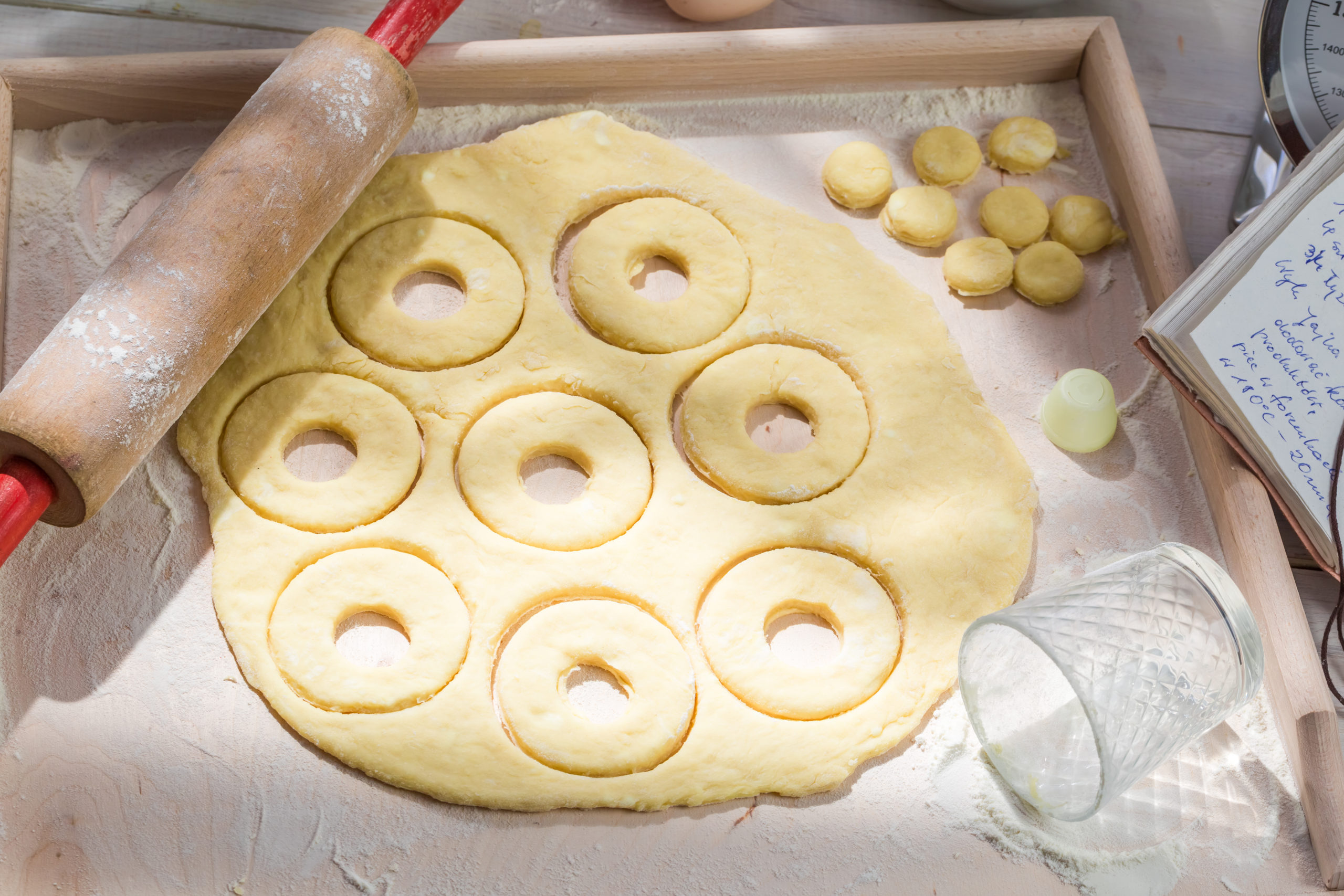 Ingredients:
1 cup all-purpose flour
1/2 cup sugar
1 tsp baking powder
1/4 tsp salt
1/2 cup milk
1 egg
2 tbsp melted cannabis butter
1 tsp vanilla extract
Oil for frying

If you need help making your own cannabutter check out our blog here.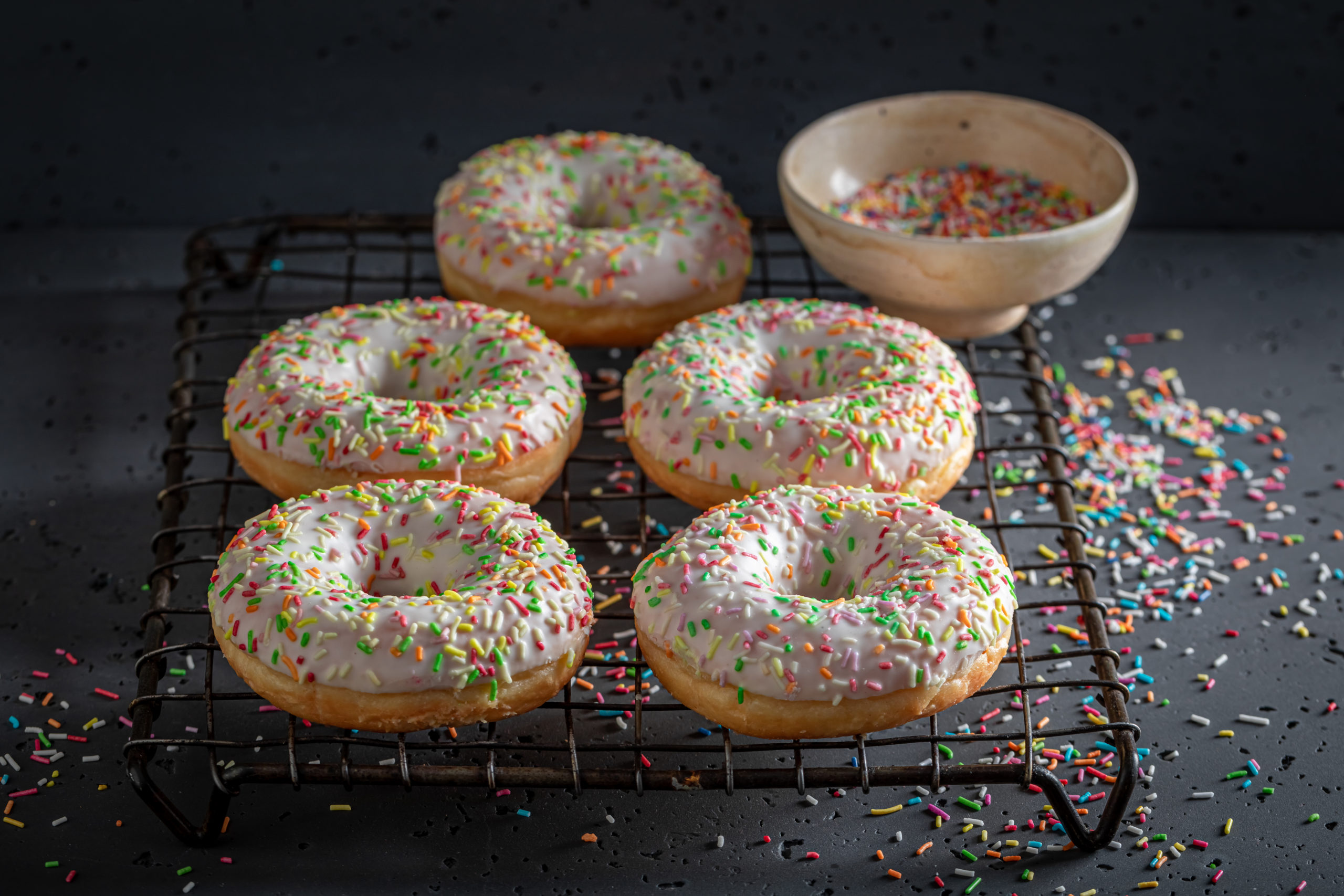 Here's how to make them:
In a medium bowl, whisk together the flour, sugar, baking powder, and salt.
In a separate bowl, beat together the milk, egg, cannabis butter, and vanilla extract.
Mix the wet ingredients to the dry ingredients and stir until just combined.
Heat oil in a large pot or deep fryer to 375°F.
Drop spoonfuls of the dough into the hot oil and fry until golden brown, about 2-3 minutes per side.
Remove the donuts from the oil with a slotted spoon and drain on a paper towel.
Dust with confectioners' sugar or glaze with your favorite icing.
Note: The amount of cannabis butter used in this recipe can be adjusted to your desired potency. It is important to remember to always start with a small amount and increase gradually, as it can be difficult to gauge the strength of homemade edibles. It is also important to store these donuts safely out of the reach of children and pets.
Please feel free to share your favorite recipe for a medicated treat in the comments section below.
Please let us know in the comments if this recipe was helpful in any way.
In the event that you would like to contribute a recipe. With the subject line "Cannabis Recipe," send them to info@findinghaven.com.
Need meds to make your own?
You can place your order now via our online menu.
MAKE SURE TO LIKE COMMENT AND SUBSCRIBE!
Follow us on Twitter
https://twitter.com/findinghavenmd
Follow us on Instagram
https://www.instagram.com/haven_md/
Like us on Facebook
https://www.facebook.com/FindingHavenMD/
Visit our website
https://www.FindingHaven.com
Check out our inventory at shop.findinghaven.com
Haven is a Southern Maryland based medical cannabis dispensary located in Brandywine MD.
A person must be at least 18+ years old to view this content.
Medical cannabis use is for certified patients only.